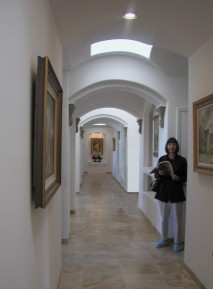 Creating a nice-quality colored sketch from a digital photo, such as the one shown here, is relatively simple with DarkTree 2.0. The following steps will show you exactly how to do it.
1. Sketching in an outline.
First, we're going to use the Process component, Derivative, to outline the areas of the image. Select a photo with good composition and not too many exceedingly "busy" areas. Architectural subjects with angles work very well, as do people and animals. There are many good choices.
To begin, drag out a color Derivative component and a percent Image component. (See an image of the component placement below.) Next load your selected photo into the Image component. Now set Derivative's Color A parameter to white and Color B to black. Link the Mask parameter to the Image component.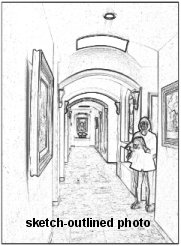 Derivative marks changes in the brightness of the image. As a result, items in the photo will be outlined. Derivative includes a parameter called Sensitivity. You can use it to change the thickness of the outlines.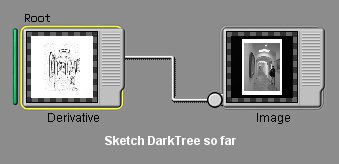 Hint: If you are using derivative to outline a smiling face, you might want to white out the gaps between the person's teeth with a paint program. Derivative is quite good at outlining the gaps between teeth, making the person look like he has rotten teeth!

Check the result so far in an expanded Examine Window. If you notice some unwanted noisiness, read the following section
---
How to Clean Up Image Noisiness
Since Derivative is quite good at its job, you'll often find noise and defects that you didn't even realize were in the image. Jpeg files, for example, often show a grid of tiny boxes. This grid is actually an artifact of jpeg compression that is normally too subtle for the human eye to recognize. Even if you've selected an image that seems noise-free, you can still get unsatisfactory results. Take a look at the two sample images below. The jpeg on the left shows the noise artifacts from a jpeg compression; the image on the right has been cleaned up by DarkTree 2.0's Bitmap Renderer.