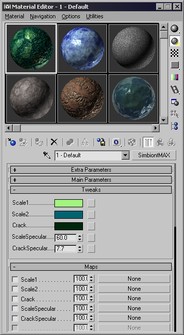 Production and Texture Rigging
When working on a CG production, multiple people, with different skills, work on different aspects of a shot. In such an environment, DarkTree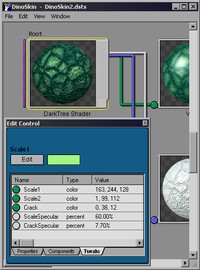 provides the texture/shader artist with the tools to create full -rigged and to-scale procedural shaders that other team members can use without having to understand how the shader works.
Export specific controls in DarkTree (left) and those same controls will be available to anyone using the shader (right, same shader in 3ds max 5). Once a texture is rigged with tweak controls, it can easily be reused or quickly modified while the production director looks over your shoulder.
Procedural materials can also be built to-scale. Simply set a scale in DarkTree and then the material will fit perfectly on any to-scale objects in your shot.
Open API
The procedural engine for DarkTree 2.5 was re-written to allow extensive programmer access (API). You can write your own procedural components that will enhance DarkTree and, at the same time, all the Simbiont plugins. If you have your own proprietary renderer or an application that DarkTree doesn't currently support, you can write your own DarkTree-based plugin. (no licensing fee)
Free Plugins = Big Savings
Outfitting a CG studio with all the best graphics tools can be very expensive! If you buy a plugin for one animator, you have to buy it for the whole studio, collaborators, and contractors. All DarkTree 2.5 plugins are free to DarkTree owners, so adding DarkTree shaders to your production pipeline is free!
Yes, free. You can download and install our Simbiont plugins on all your render nodes. With the ability to export shader controls, only texture and shader artists need to have full DarkTree 2.5 copies.